On November 8th, a photograph of the Dongfeng team sailing with the name a€?DongfengRaceTeamwillbebackinVolvoOceanRace2017-18a€? appeared on the big screen of Times Square in New York. Dongfeng Motor Company has received extensive attention from the global media since it officially announced that it once again named Dong Feng and formed the Dongfeng Team for the 2017-18 season of the Volvo Ocean Race.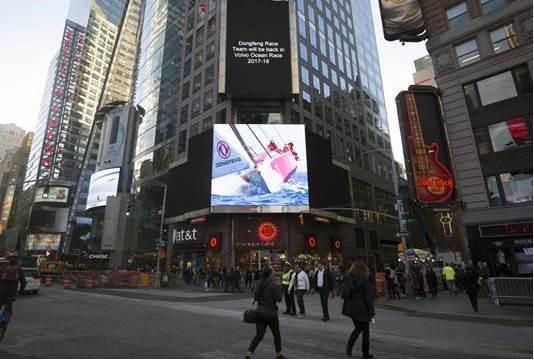 The Volvo Ocean Race has a long history. It is the world's top sailing event, with more than one billion television viewers, more than 4,000 registered reporters and millions of tourists. It is an ideal platform for global brand communication and business activities. On November 7, 2016, Dongfeng Motor Company held the a€?Dongfeng Team announced its participation in the kick-off ceremony of the 2017-18 Volvo Ocean Racea€? at its headquarters in Wuhan, which triggered competition reports from numerous media inside and outside China.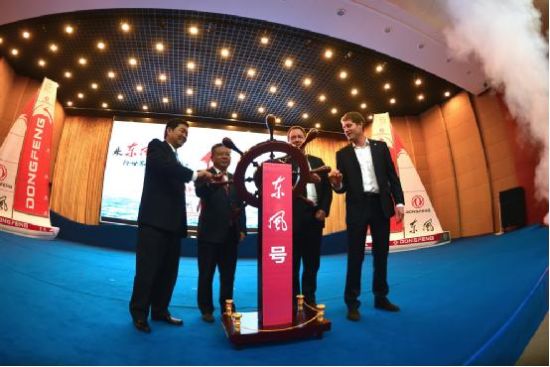 According to the Associated Press, 274 foreign media have reported on this issue, including media from the United States, Germany, the United Kingdom, Singapore, and Canada. Among them, Yahoo!, the famous Internet portal in the United States, reported on "DongfengRaceTeamAnnouncesParticipationinVolvoOceanRace2017-18", which read nearly 200,000 people. And as many as 25 global top media, such as Chase, Yahoo!Canada, Beauty, FitnessandMe, Yahoo!Singapore, ADVFNGermany, NationalPost, etc., have made greater coverage of the Dongfeng team's participation in the Volvo Ocean Race.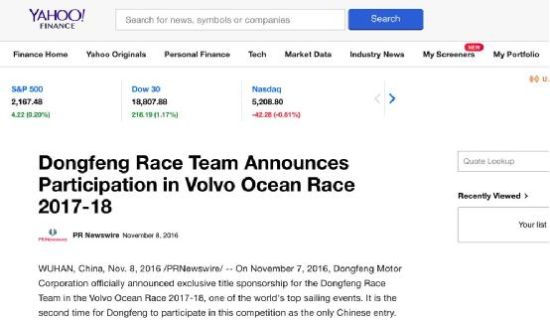 This international news event also attracted domestic large-scale media such as Tencent, Sina, Sohu, and Phoenix to invest heavily in resources and reported the launch event as the first news event on the day. Subsequently, Xinhua News Agency, Xinhua News, People's Daily, China News Service, Hong Kong Wen Wei Po, etc. all released relevant reports of the Dongfeng team on the official platform. Among them, Renmin Ribao has conducted detailed textual and television coverage of the Dongfeng team's participation in many platforms such as People's Daily, People's Daily client, People's Daily People's TV, and Bennet's original platform.
In addition to the reports of the central media and comprehensive mainstream media, Hubei Daily, Changjiang Daily, Chutian Metropolis Daily, Hubei Satellite TV, Wuhan TV, and Wuhan Evening News also reported on the Dongfeng Company's title of Dongfeng Team. Auto media such as automakers, truck homes, auto business reviews, auto commune, and car news agency also focused on this issue. According to incomplete statistics, there have been more than 60 mainstream media reports on this matter so far, including print media, television media, online media, and new media. The "Dongfeng" sailed again and attracted attention.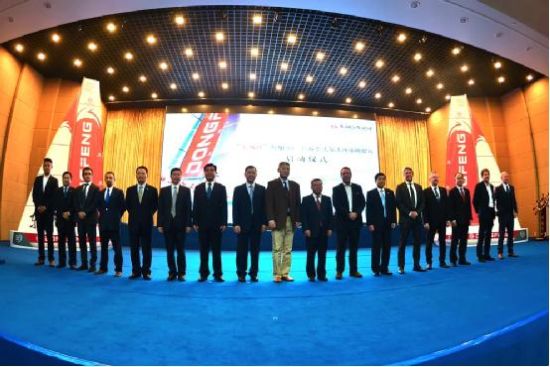 Dongfeng Motor Company is named for the 2017-18 season Volvo Ocean Race and will use this top event to enhance the popularity of the Dongfeng brand. At the same time, in this process, not only is it committed to let the world remember China's east wind, it is also committed to spreading the Chinese culture to the world and tells the story of China.
EJ Industrial Group Co.,Ltd is a leading professional valves manufacturer in China.
Our industry valves products range cast steel and Forging Steel Floating Ball Valve, Trunnion Mounted Ball Valve, Dbb Ball Valve , Gate Valve , globe valve, Check Valve and high performance Butterfly Valves. The fields we serve include oil and gas, LNG, refinery, chemical, pharmacy, mining industry, and so on.
All our products are manufactured and tested according to international standards API 6D, API6A, API600, ANSI B16.34, API607, API6Fa, API 591, API594,API609, API602, BS5153, BS1868, BS1873, DIN3202, DIN3352, BS5163, BS5153,BS5150, AWWA C509, API598, and EN12266.
Double Offset Butterfly Valve,Stainless Steel Butterfly Valve,Butterfly Valve,Triple Offset Butterfly Valve
EJ INDUSTRY GROUP , https://www.ej-industry.com